Caring for Those in Need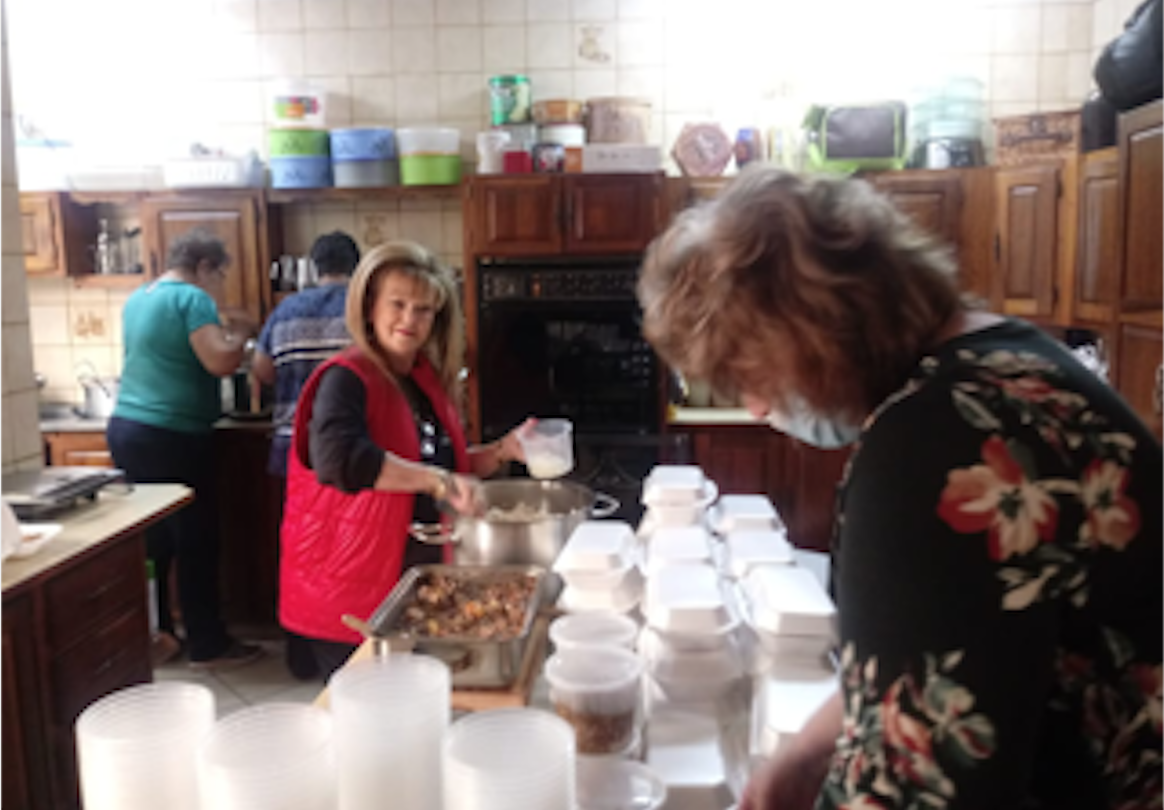 Working in our kitchen to prepare meals for those desparate for food. Click picture to reac more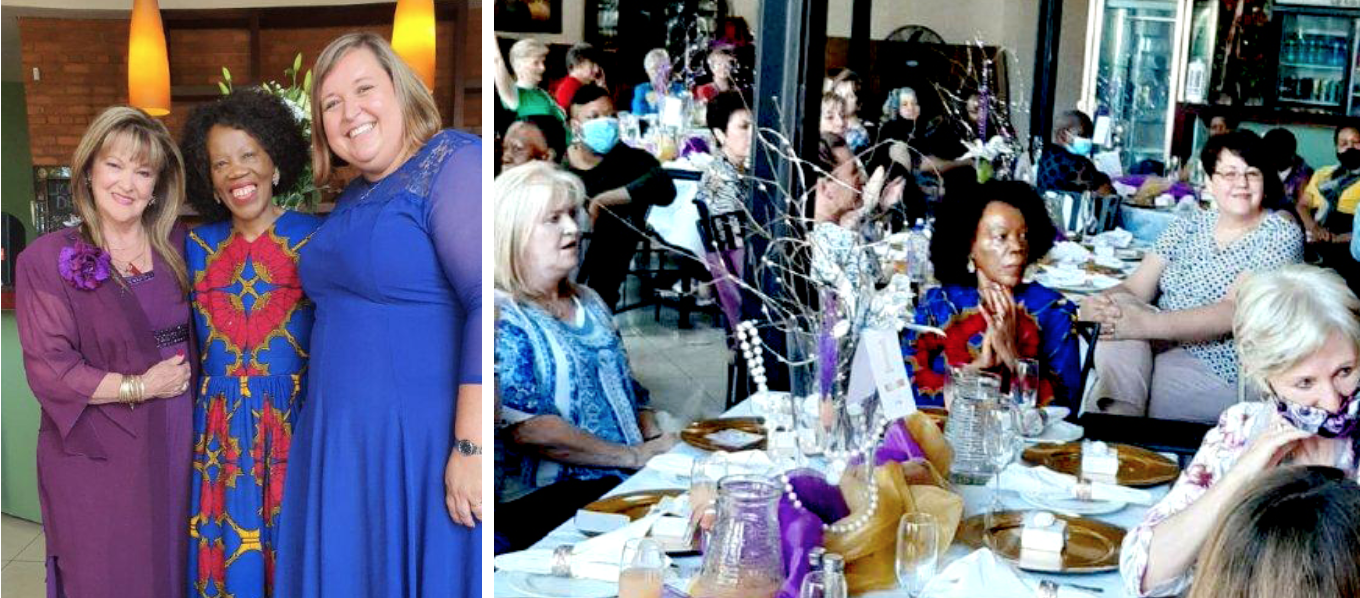 14 November 2020—The highlight of 2020 was our Kings Daughters breakfast held at the Lion's Den Restaurant in Silverton, Pretoria. We could only accommodate a 100 women due to the Covid-19 regulations in South Africa. The women were excited to be there and to see the stunning looking tables. We had a wonderful program with Lydia Meshoe as our speaker and Lenor leading in worship, and Ivy Khoza led us in receiving the offering.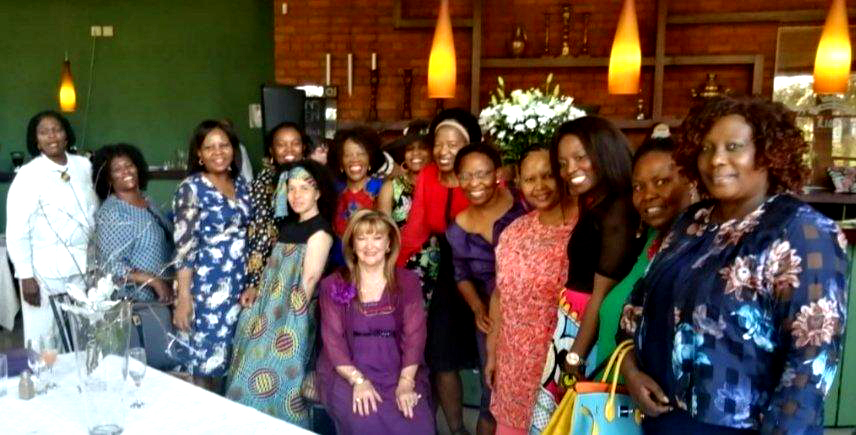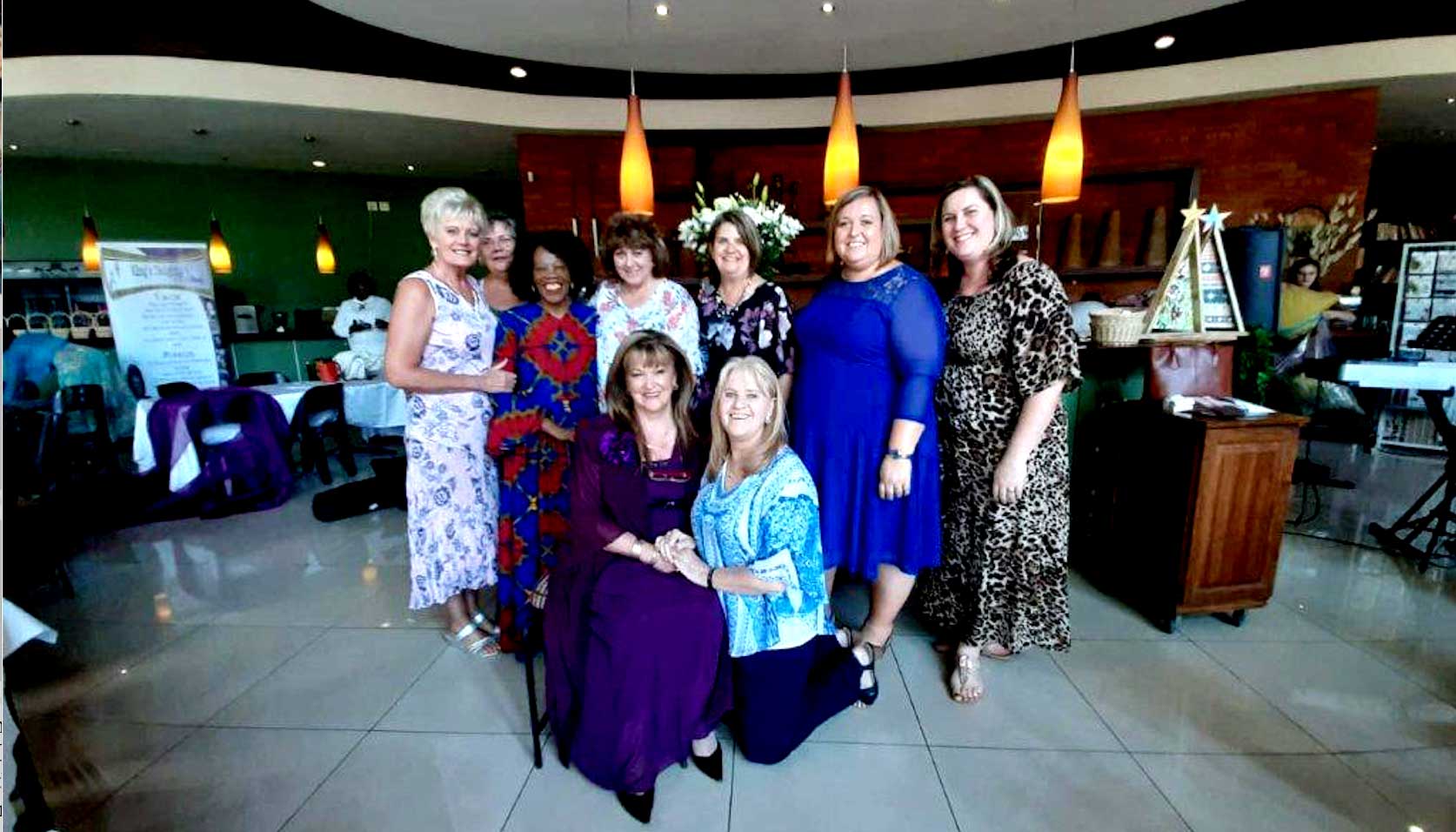 The presence of the Lord was tangible. Many woman said they could not wait for the next breakfast. This day was a phenomenal success! A special word of thanks to the Kings Daughters team that made this happen.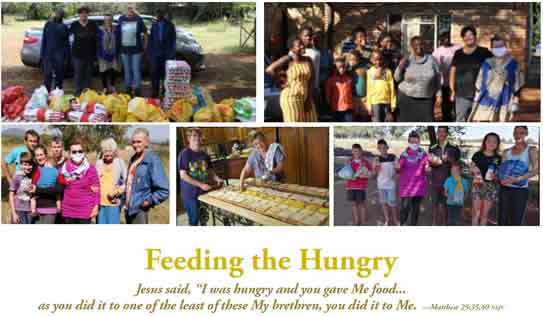 Even in the midst of a global pandemic, that enforced a national lockdown in 2020, it did not stop us as a ministry to be active and fruitful. I got a call from a friend that 23 families had no food for days. God spoke to me to follow this up and make a difference and show the love of Jesus. (See more by clicking this link)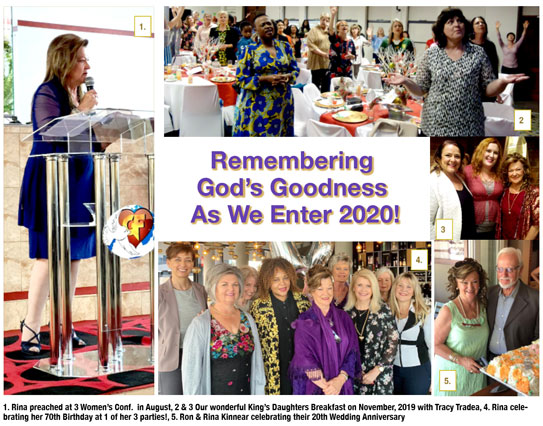 Click to see more pictures and to learn more about our great event!
Mark Your Calendar!
Breakfast——17 November, 2019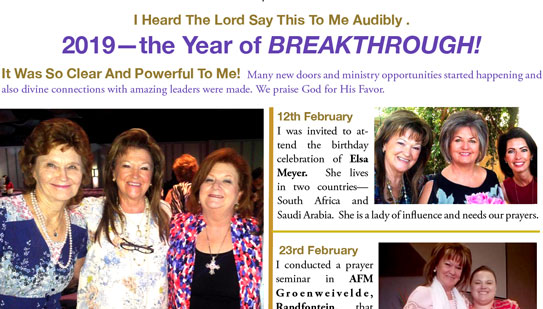 (Above) See more pictures of the May 2019 King's Daughters Letter by clicking the picture.
2018 Review
—We thank God for the blessings and opportunies of 2018! From writing articles in Juig! Magazine, launching HopeSA, Prayer Conferences, ministering the Word, visiting Old Age homes, and being named Missionaries of the Year with my husband—what a year! We had a wonderful King's Daughters Breakfast, and ministered at a Women's Conference in Uganda. There were so many other things, too!
Just click to see more.
Rina Kinnear, President King's Daughters of Excellence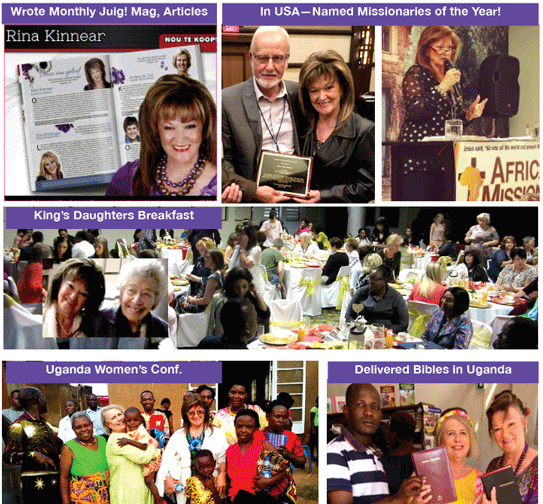 See the pictures of our November 3, 2018 King's Daughters Breakfast by clicking the picture.,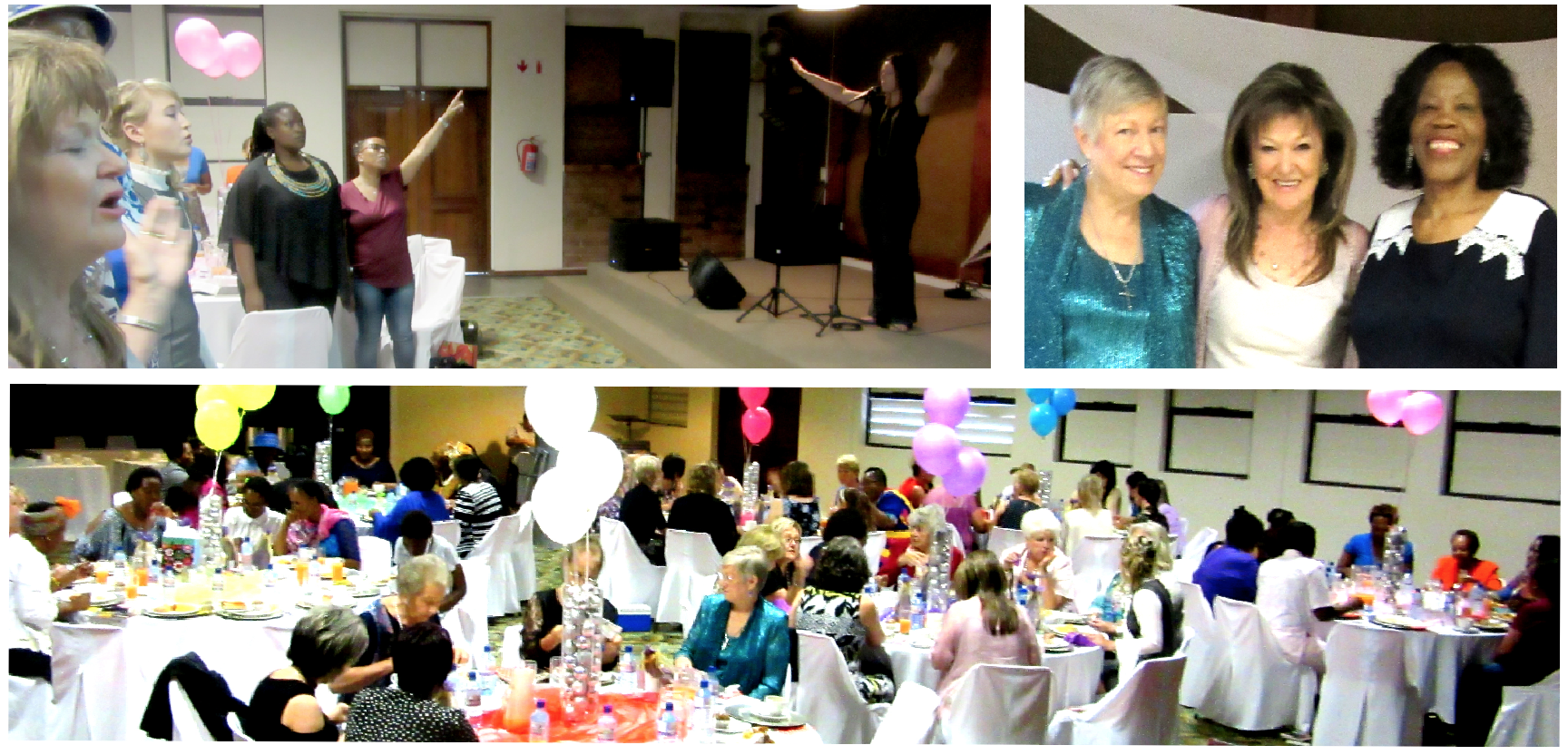 Our 2017 Year-End Function was a great blessing with Gene Ruth Brumback, Rina Kinnear, and Lydia Meshoe. Click to see the pictures and notes.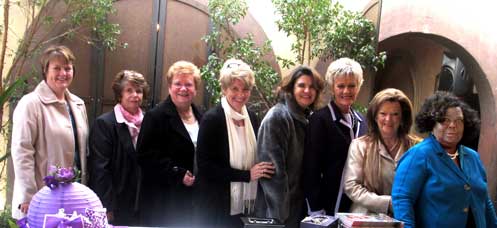 We were blessed and encouraged in our prayer life by Pastor Ivy Khoza and Pastor Cilla le Roux at the King's Daughters breakfast on Saturday 29 July, 2017. Click to see the pictures and read the notes.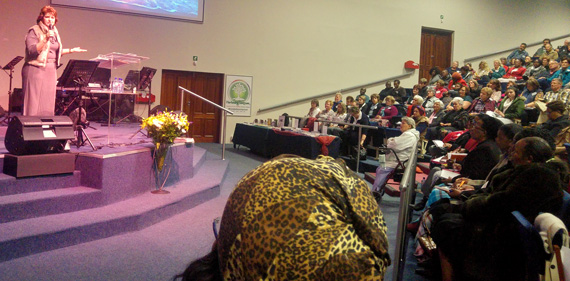 What a wonderful time we had with Suzette Hattingh in June at the King's Daughters Prayer Conference! She was Reinhard Bonnke's prayer team leader for many years, and gave a life-changing teaching. Click to see pictures and see the notes.